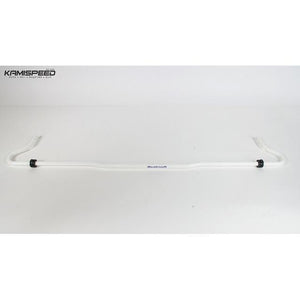 Not all sway bars are made equal. Unlike other brand's design, Beatrush's sway bar's design takes into consideration maximum efficiency, unsprung-mass, and quality. In order to reduce the effect of the sway bar on unsprung-mass, Beatrush uses proprietary materials and a thickness of 15mm in order to keep weight down, while maintaining maximum efficiency by using the most efficient lever arm length possible.

The rear sway bar has two mounting points in order to adjust the suspension geometry to increase or decrease body roll as necessary.

In return this sway bar will allow you to maintain oem endlinks, provide no rubbing/fitment/noise issues, and maximum suspension performance. The only change your BRZ or FR-S will experience is less body roll during fast cornering or over road irregularities.


Average installation time is about 30minutes with proper tools.

Application:

Subaru BRZ (2013, 2014, 2015, 2016)
Scion FR-S (2013, 2014, 2015, 2016)